Bentuk Ruang Terbuka pada Permukiman Tepian Sungai Musi, Palembang
Maya Fitri Oktarini

Program Studi Teknik Arsitektur, Universitas Sriwijaya.

Husnul Hidayat

Program Studi Teknik Arsitektur, Universitas Sriwijaya.

Klarissa Susanto

Program Studi Teknik Arsitektur, Universitas Sriwijaya.

Afzal Abilais

Program Studi Teknik Arsitektur, Universitas Sriwijaya.
Keywords:
ruang terbuka, permukiman tepian sungai, penataan permukiman
Abstract
Ruang terbuka publik merupakan fasilitas hunian yang penting untuk menciptakan ruang hidup yang sehat bagi penduduk kota. Fasilitas yang berperan besar dalam mewadahi aktivitas kehidupan masyarakat di permukiman perkotaan. Pada permukiman tepi sungai, kawasan bantaran sungai memiliki potensi lahan yang cukup besar untuk dibangun ruang terbuka publik. Penelitian ini bertujuan untuk mengidentifikasi bentuk, sebaran, dan ukuran ruang terbuka pada permukiman di sepanjang bantaran Sungai Musi Palembang. Kajian ini juga mengamati fungsi ruang terbuka dalam mewadahi aktivitas warga. Penelitian menggunakan metode rasionalistik, melalui observasi lapangan berupa pengamatan terhadap setting fisik dan aspek fungsi. Hasil penelitian menunjukkan bahwa ruang terbuka untuk interaksi dan aktivitas publik tersebar merata di berbagai lokasi dengan bentuk dan ukuran yang beragam, namun tidak didukung oleh fasilitas pendukung. Sementara itu, masyarakat menciptakan ruang terbuka alternatif untuk mewadahi berbagai aktivitasnya sebagai solusi dari kurangnya ruang publik. Tanpa pembukaan lahan baru, revitalisasi infrastruktur permukiman dapat difokuskan untuk memperbaiki kualitas ruang terbuka informal melalui penyediaan area duduk dengan bangku, penerangan, naungan, pohon, dan tempat penjualan untuk meningkatkan kenyamanan, keamanan, dan keindahan dari ruang terbuka publik.
References
Andersson, Cecilia. (2016). "Public Space and the New Urban Agenda." The Journal of Public Space 1(1): 5–10.
Darmawan, Edy. (2007). "Peranan Ruang Publik Dalam Perancanagan Kota (Urban Design)". Badan Penerbit Universitas Diponegoro, Semarang.
Fitri, Maya. (2014). "Kriteria Pengembangan Pembangunan Di Lahan Basah Riparian Dengan Pendekatan Ekosistem."
Kamalipour, Hesam, & Kim Dovey. (2020). "Incremental Production of Urban Space: A Typology of Informal Design." Habitat International 98: 102133.
Koohsari, Mohammad Javad et al. (2015). "Public Open Space, Physical Activity, Urban Design and Public Health: Concepts, Methods and Research Agenda." Health & place 33: 75–82.
Archvisual: Jurnal Arsitektur dan Perencanaan Volume 2 Nomor 1 Juni 2022: 17-24
p-ISSN 2809-5766 / e-ISSN 2809-5014
24
Lussetyowati, Tutur. & Johannes Adiyanto. (2020). "A Study on Urban Spatial Patterns of Riverside Settlement: A Case Study of Musi Riverside, Palembang." IOP Conference Series: Earth and Environmental Science 402(1): 012010.
Mehta, Vikas. (2014). "Evaluating Public Space." Journal of Urban design 19(1): 53–88.
Michiani, Meidwinna Vania, & Junichiro Asano. (2019). "Physical Upgrading Plan for Slum Riverside Settlement in Traditional Area: A Case Study in Kuin Utara, Banjarmasin, Indonesia." Frontiers of Architectural Research 8(3): 378–95.
Permana, Asep Yudi, Sugiono Soetomo, Gagoek Hardiman, & Imam Buchori. (2013). "Smart Architecture as a Concept of Sustainable Development in the Improvement of the Slum Settlementarea in Bandung." : 11.
UN Habitat. (2009). Planning Sustainable Cities. Earthscan.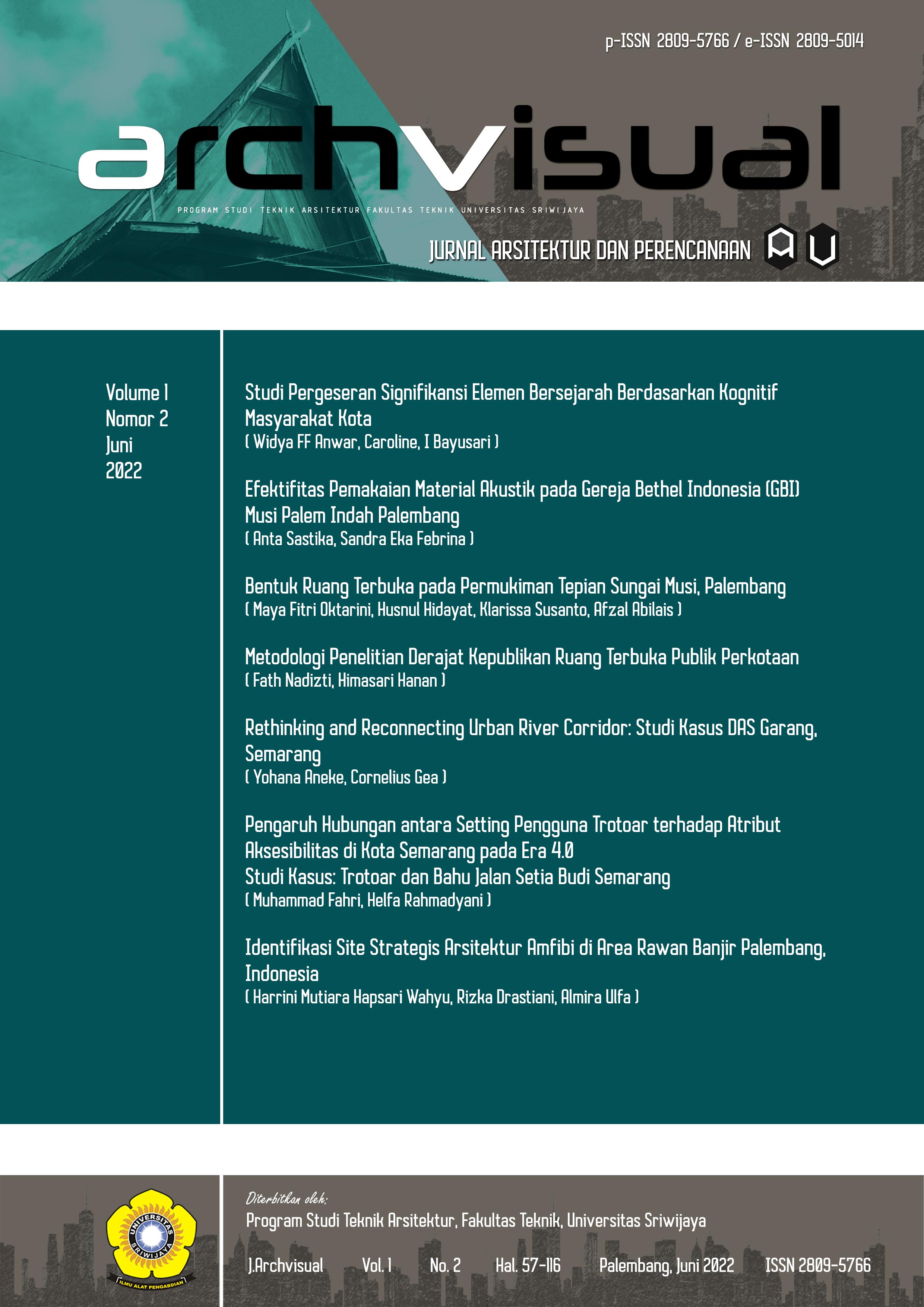 This work is licensed under a Creative Commons Attribution-NonCommercial 4.0 International License.
Authors who publish with this journal agree to the following terms:
Authors retain copyright and grant the journal right of first publication with the work simultaneously licensed under a Creative Commons Attribution-NonCommercial 4.0 International License that allows others to share the work with an acknowledgment of the work's authorship and initial publication in this journal.
Authors are able to enter into separate, additional contractual arrangements for the non-exclusive distribution of the journal's published version of the work (e.g., post it to an institutional repository or publish it in a book), with an acknowledgment of its initial publication in this journal.
Authors are permitted and encouraged to post their work online (e.g., in institutional repositories or on their website) prior to and during the submission process, as it can lead to productive exchanges, as well as earlier and greater citation of published work (See The Effect of Open Access).