Penerapan Alat Penjernih Air Yang Praktis di Desa Pelabuhan Dalam Kecamatan Pemulutan Kabupaten Ogan Ilir
firmansyah Burlian

M Baitullah

Teknik Sipil, Universitas Sriwijaya, Palembang

A Arifin

Teknik Mesin, Universitas Sriwijaya, Palembang

Zulkarnain Zulkarnain

Teknik Mesin, Universitas Sriwijaya, Palembang

M T Toha

Teknik Pertambangan, Universitas Sriwijaya, Palembang
Keywords:
Teknologi tepat guna, TTG, penjernih air, air bersih, filtrasi
Abstract
ABSTRAK: Kegiatan Pengabdian Pada Masyarakat ini adalah membantu penduduk Desa Pelabuhan Dalam, Kecamatan Pemulutan, Kabupaten Ogan Ilir untuk penyediaan air bersih yang dirasakan sangat mendesak dan merupakan skala prioritas yang harus dipenuhi untuk keberlangsungan kegiatan masyarakat sehari-hari terutama untuk air minum. Kebutuhan air bersih menjadi masalah karena topografi Kabupaten Ogan Ilir yang sebagian besar terdiri dari ekosistem rawa dan penduduk pedesaan yang belum terjangkau PDAM dan hanya mengandalkan Sungai Pemulutan dan anak-anak sungainya, air permukaan di Kabupaten Ogan Ilir terdapat dalam bentuk air rawa, air gambut yang memerlukan sentuhan teknologi bila hendak dimanfaatkan sebagai sumber air bersih. Target khusus yang ingin dicapai dalam kegiatan ini meliputi penerapan alat penjernih air baik air rawa, air sumur bor dan air sungai menggunakan sistem penjernihan air untuk membantu masyarakat dalam pengadaan air bersih. Teknologi ini telah banyak diterapkan dalam pengelolaan air drum seperti air sungai, air rawa, sumur bor. Namun demikian, sebagian besar masyarakat awam belum banyak mengetahui sistem perancangan dan perawatan alat penjernih air sehingga dapat menghasilkan air bersih dalam jumlah memadai dan tetap menjaga kelancaran operasional peralatan dengan melakukan perawatan berkala. Metode penjernihan air ini menggunakan proses filtrasi yang dirancang untuk pengolahan air drum dan menghasilkan air yang memenuhi standar air bersih sesuai dengan kapasitas produk yang diinginkan. Pengujian alat dilakukan dengan menyiapkan air drum (air kolam) yang dicampur tawas dan kaporit dimasukkan ke dalam drum air drum dengan kapasitas 120 liter kemudian disaring melalui media filter yang terdiri dari ijuk, koral, pasir, arang kayu selanjutnya dialirkan ke drum air bersih dengan kapasitas 120 liter dengan waktu proses ± 100 menit yang terdiri dari waktu persiapan, pengendapan, dan penyaringan air.
Kata Kunci: Teknologi tepat guna, TTG, penjernih air, air bersih, filtrasi
ABSTRAK: This Community Service activity is to help the residents of Pelabuhan Dalam Village, Pemulutan District, Ogan Ilir Regency for the provision of clean water which is felt to be very urgent and is a priority scale that must be met for the sustainability of daily community activities, especially for drinking water. The need for clean water is a problem because the topography of Ogan Ilir Regency which mostly consists of swamp ecosystems and rural residents who have not been reached by PDAM and only relies on the Pemulutan River and its tributaries, surface water in Ogan Ilir Regency is in the form of swamp water, peat water which requires a touch of technology if you want to use it as a source of clean water. The specific targets to be achieved in this activity include the application of water purification equipment, both swamp water, bore well water and river water using a water purification system to assist the community in providing clean water. This technology has been widely applied in the management of raw water such as river water, swamp water, bore wells. However, most ordinary people do not know much about the design and maintenance system for water purifiers so that they can produce adequate amounts of clean water and maintain the smooth operation of the equipment by carrying out regular maintenance. This water purification method uses a filtration process designed for raw water treatment and produces water that meets clean water standards according to the desired product capacity. Equipment testing is carried out by preparing raw water (pool water) mixed with alum and chlorine put into a drum of raw water with a capacity of 120 liters then filtered through a filter media consisting of palm fiber, coral, sand, wood charcoal and then flowed into a clean water drum with a capacity of 120 liters with a processing time of ± 100 minutes consisting of preparation time, settling, and water filtration.
Keywords: Appropriate Technology, TTG, Water Purification, clean water, filtration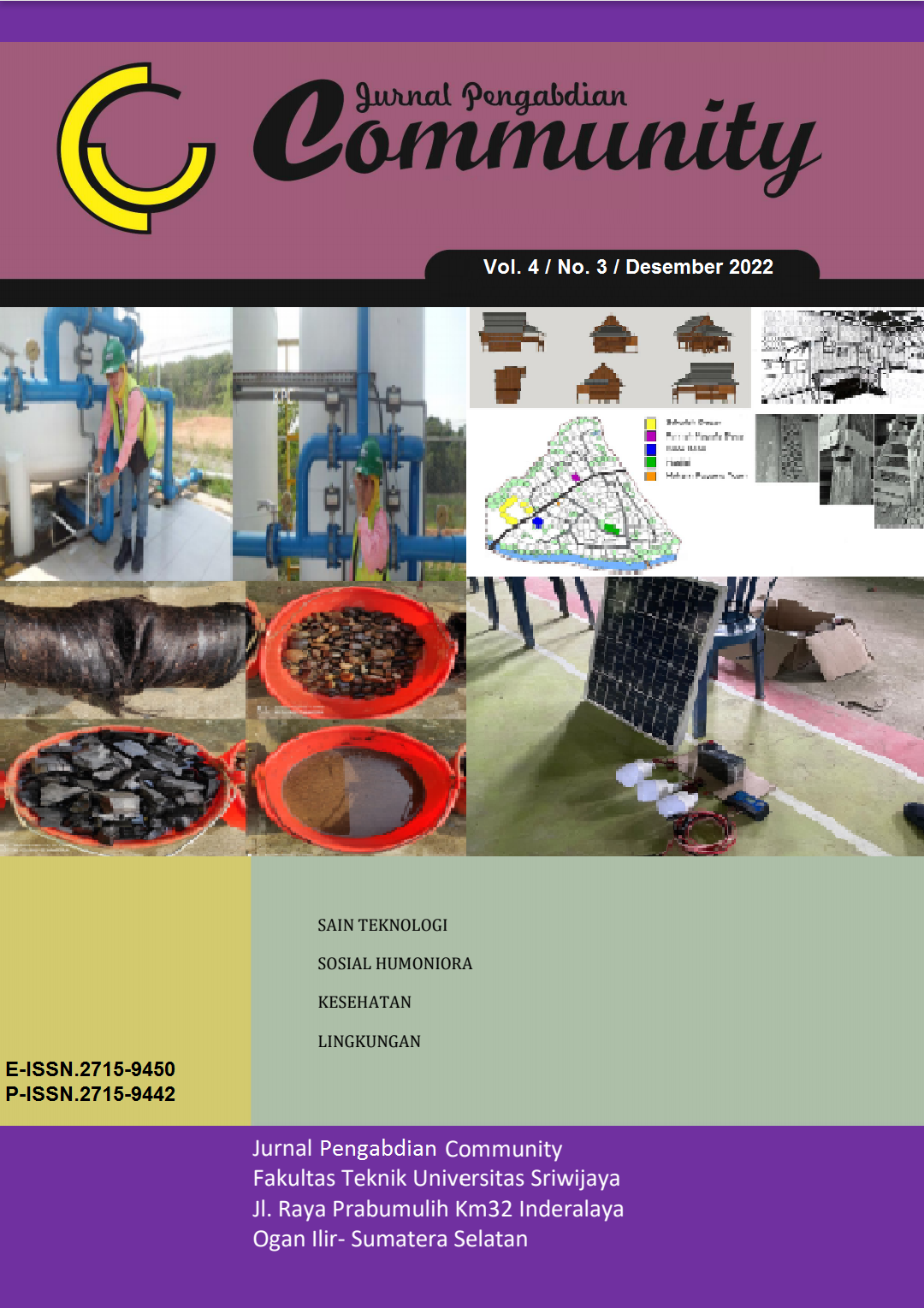 This work is licensed under a Creative Commons Attribution 4.0 International License.