Rethinking and Reconnecting Urban River Corridor: Studi Kasus DAS Garang, Semarang
Yohana Aneke

Magister Rancang Kota, Universitas Gadjah Mada

Cornelius Gea

Yayasan Lembaga Bantuan Hukum Indonesia, Lembaga Bantuan Hukum Semarang.
Keywords:
sungai perkotaan, DAS Garang, kota, banjir, tangguh dan berkelanjutan
Abstract
Koridor sungai perkotaan memiliki peran penting dalam perkembangan kota. Sejak peradaban awal sungai telah memiliki peran penting, seperti sebagai navigasi, irigasi, pasokan air domestik dan industri, pertahanan, dan produksi energi. Secara umum sungai memiliki fungsi hidrologis dan ekologis sebagai penyangga keseimbangan alam. Hubungan antara hulu, tengah, dan hilir memiliki konektivitas sebab-akibat yang akan saling mempengaruhi. Sungai yang melewati ruang kota akan menimbulkan masalah jika tidak dikelola dengan baik. Proyek rekayasa terhadap dinamika alami sungai telah mencapai pada titik kritis. Penelitian ini menggunakan metode penelitian kualitatif, melalui pengamatan fenomena di lapangan, mengumpulkan data primer dan data sekunder untuk menghasilkan temuan-temuan baru. Penelitian ini menemukan bahwa berbagai tekanan dari perubahan iklim, perubahan tata ruang, dan peningkatan jumlah kejadian banjir membuat semua upaya mengatasi persoalan sungai tersebut perlu dipikirkan kembali. Berbagai proyek pemerintah seperti pencegahan banjir dan proyek normalisasi sungai masih berlanjut hingga saat ini. Namun, belum bisa sepenuhnya menjawab permasalahan sungai. Oleh karena itu, diperlukan strategi untuk memulai transisi ke pendekatan yang lebih tangguh dan berkelanjutan.
References
Batubara, B., Kausan, B. Y., Handriana, E., Salam, S., & Ma'arufah, U., (2021). Banjir Sudah Naik Seleher: Ekologi Politis Urbanisasi DAS-DAS di Semarang. Semarang: Cipta Prima Nusantara.
Bell, S., Fleming, L. E., Grellier, J., Kuhlmann, F., Nieuwenhuijsen, M. J., & White, M. P., (2021). Urban Blue Space: Planning and Design for Water, Health and Well-Being. London: Routledge.
Cesarin, B. T. (2016). Korelasi antara Pemanfaatan Sungai dan Karakteristik Hunian dengan Permasalahan pada Koridor Sungai di Kawasan Permukiman Perkotaan. Prosiding Temu Ilmiah IPLBI 2016. 57-64.
Castonguay, S., & Evenden, M., (2012). Urban Rivers: Re-making River, Cities and Space in Europe and North America. Pittsburgh: University of Pittsburgh Press.
Forgaci, C. (2018). Integrated Urban River Corridors: Spatial design for social-ecological resilience in Bucharest and beyond. Netherlands: A+BE | Architecture and the Built Environment.
Kostof, S. (1992). The City Assembled: The Elements of Urban Form Through History. London: Thames & Hudson.
Liao, K.H. (2012). A Theory on Urban Resilience to Floods A Basis for Alternative Planning Practic. Ecology and Society, 17(4),48.
https://doi.org/10.5751/ES-05231-170448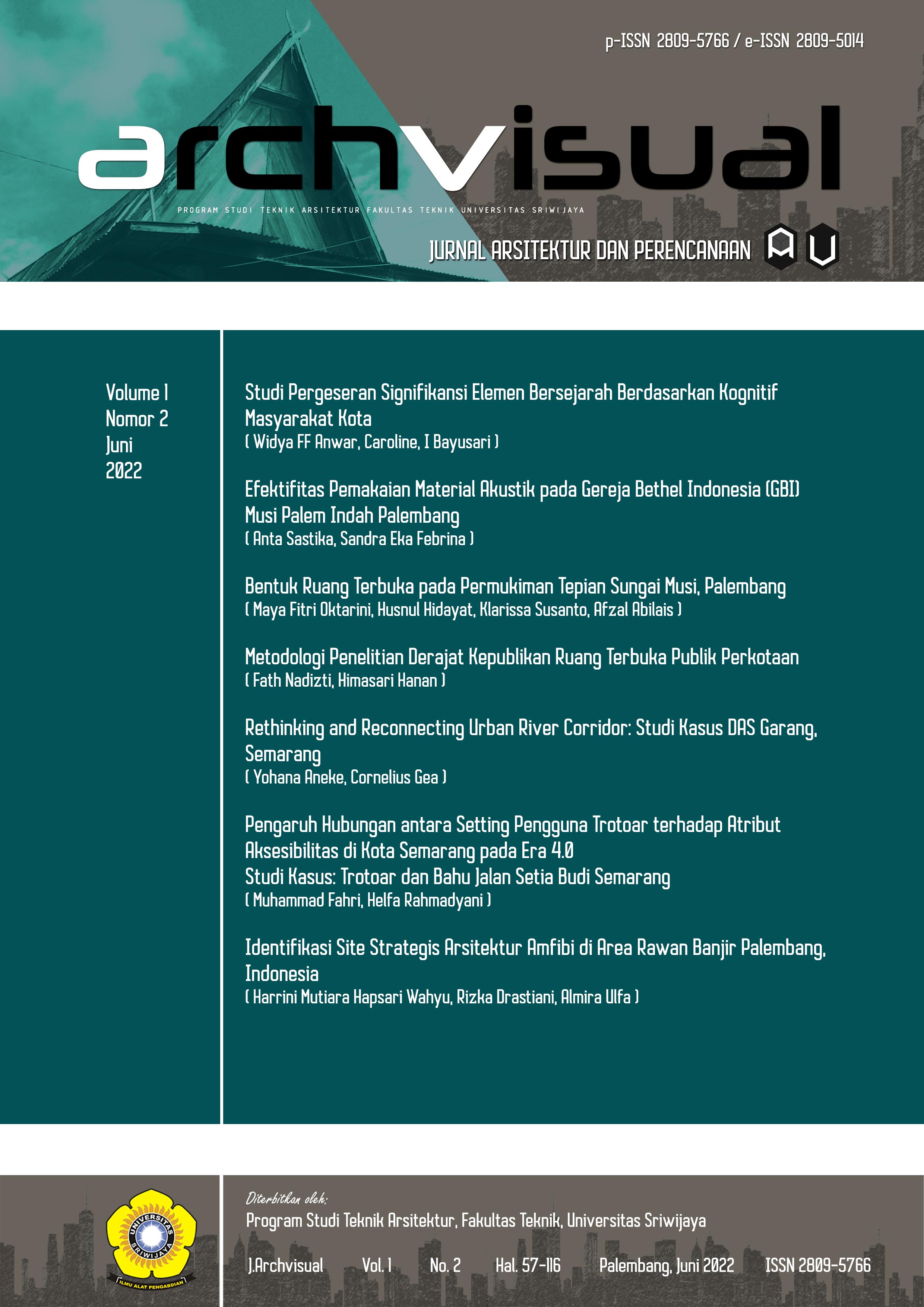 This work is licensed under a Creative Commons Attribution-NonCommercial 4.0 International License.
Authors who publish with this journal agree to the following terms:
Authors retain copyright and grant the journal right of first publication with the work simultaneously licensed under a Creative Commons Attribution-NonCommercial 4.0 International License that allows others to share the work with an acknowledgment of the work's authorship and initial publication in this journal.
Authors are able to enter into separate, additional contractual arrangements for the non-exclusive distribution of the journal's published version of the work (e.g., post it to an institutional repository or publish it in a book), with an acknowledgment of its initial publication in this journal.
Authors are permitted and encouraged to post their work online (e.g., in institutional repositories or on their website) prior to and during the submission process, as it can lead to productive exchanges, as well as earlier and greater citation of published work (See The Effect of Open Access).