Sense of Place Pasar 16 Ilir Palembang
Tutur Lussetyowati

Universitas Sriwijaya

Almira Ulfa

Universitas Sriwijaya
Keywords:
palembang, pasar 16 ilir, sense of place, sungai musi
Abstract
Sense of place atau kesan tempat merupakan elemen penting yang dapat memperkuat hubungan antara pengguna dan tempat. Karakter tempat sangat berpengaruh terhadap bagaimana seseorang menilai sebuah tempat dan memaknainya. Pasar 16 Ilir, salah satu pasar lama di Kota Palembang, menjadi salah satu kawasan yang dari dulu hingga sekarang memiliki peran penting di kota Palembang. Namun saat, ini pasar tersebut mulai menghadapi banyak permasalahan, seperti masalah kemacetan dan bentuk fisik bangunan. Selain itu, interior bangunan menjadi kurang menarik. Hal-hal ini mempengaruhi sense of place dari Pasar 16 Ilir tersebut.  Tujuan dari penelitian ini adalah melihat sense of place Pasar 16 Ilir pada saat ini yang dipengaruhi beberapa aspek. Analisis akan mengacu pada beberapa aspek yang dapat menimbulkan adanya sense of place kepada pengguna tempat, yaitu: aktivitas (activity); makna (meaning); dan bentuk fisik (physical setting). Metode yang digunakan adalah metode penelitian kualitatif, yang terdiri dari pengumpulan data lapangan dan wawancara terhadap pengelola, pedagang dan pengunjung. Data diolah menggunakan metode analisis deskriptif. Hasil dari penelitian menunjukkan bahwa sense of place Pasar 16 Ilir bukan hanya dibentuk oleh pasarnya saja, tetapi juga oleh kawasan di sekitarnya. Menariknya, justru kawasan sekitar pasar yang memiliki peran lebih besar dalam pembentukan sense of place tersebut.
References
Agumsari, D., Ekomadyo, A. S., Gumilang, M., Bintana, D., & Susanto, V (2020) Capturing Genius Loci of Riparian Culture: The Case of Musi River Palembang, Atlantis Press.
Ahmed, M., & Zeile, P (2020) Places' Representation on Social Media, Real Corp.
Aliyah, I., Setioko, B., & Pradoto, W (2017) Spatial Flexibility in Cultural Mapping of Traditional Market area in Surakarta (A Case Study of Pasar Gede in Surakarta), City, Culture and Society, vol. 10, 41–51. https://doi.org/10.1016/j.ccs.2017.05.004
Awaritefe, O. D (2004) Motivation and Other Considerations in Tourist Destination Choice: A Case Study of Nigeria, Tourism Geographies, vol. 6, no. 3, 303–330. https://doi.org/10.1080/1461668042000249638
Bleszynski, T. P., & Widyastuti, D. T (2018) Sense of Place pada Kawasan Taman Tepian Mahakam, Samarinda, September (Jurnal Arsitektur Dan Perencanaan), vol. 1, no. 2, 1–12.
Carmona, M., Heath, T., Oc, T., & Tiesdell, S (2003) The Dimensions of Urban Design. http://www.elsevier.com
Crompton, J. L (1979) Motivations for Pleasure Vacation, Annals of Tourism Reseearch.
Dameria, C., Akbar, R., & Natalivan, P (2017) Siapa Pemilik Sense of Place? Tinjauan Dimensi Manusia dalam Konservasi Kawasan Pusaka Kota Lama, Prosiding Seminar Heritage IPLBI 2017, https://doi.org/10.32315/sem.1.b235
Do, D. T., Cheng, Y., Shojai, A., & Chen, Y (2019) Public Park behaviour in Da Nang: An Investigation into How Open Space is Used, Frontiers of Architectural Research, vol. 8, no. 4, 454–470. https://doi.org/10.1016/j.foar.2019.05.006
Foote, K. E., & Azaryahu, M (2009) Sense of Place, 96–100, http://www.elsevier.com
Irwanto, D., & Santun, M (2010) Venesia dari Timur: Memaknai Produksi dan Reproduksi Simbolik Kota Palembang dari Kolonial sampai Pascakolonial.
Lengen, C., & Kistemann, T (2012) Sense of Place and Place Identity, Review of neuroscientific evidence, Health and Place, vol. 18, no. 5, 1162–1171, https://doi.org/10.1016/j.healthplace.2012.01.012
Montgomery, J (1998) Making a City: Urbanity, Vitality and Urban Design, Journal of Urban Design, vol. 3, no. 1, 93–116. https://doi.org/10.1080/13574809808724418
Rhomadona, R. P., Hairi, M. I. A., & Amaliatulwalidain (2016) Evaluasi Pelayanan Kawasan Pasar 16 Ilir Pasca Kebijakan Penertiban dan Tata Kota Palembang Tahun 2004. Jurnal Pemerintahan Dan Politik, 1.
Whyte, H (2001) The Social Life of the Small Urban Space, Project for Public Spaces.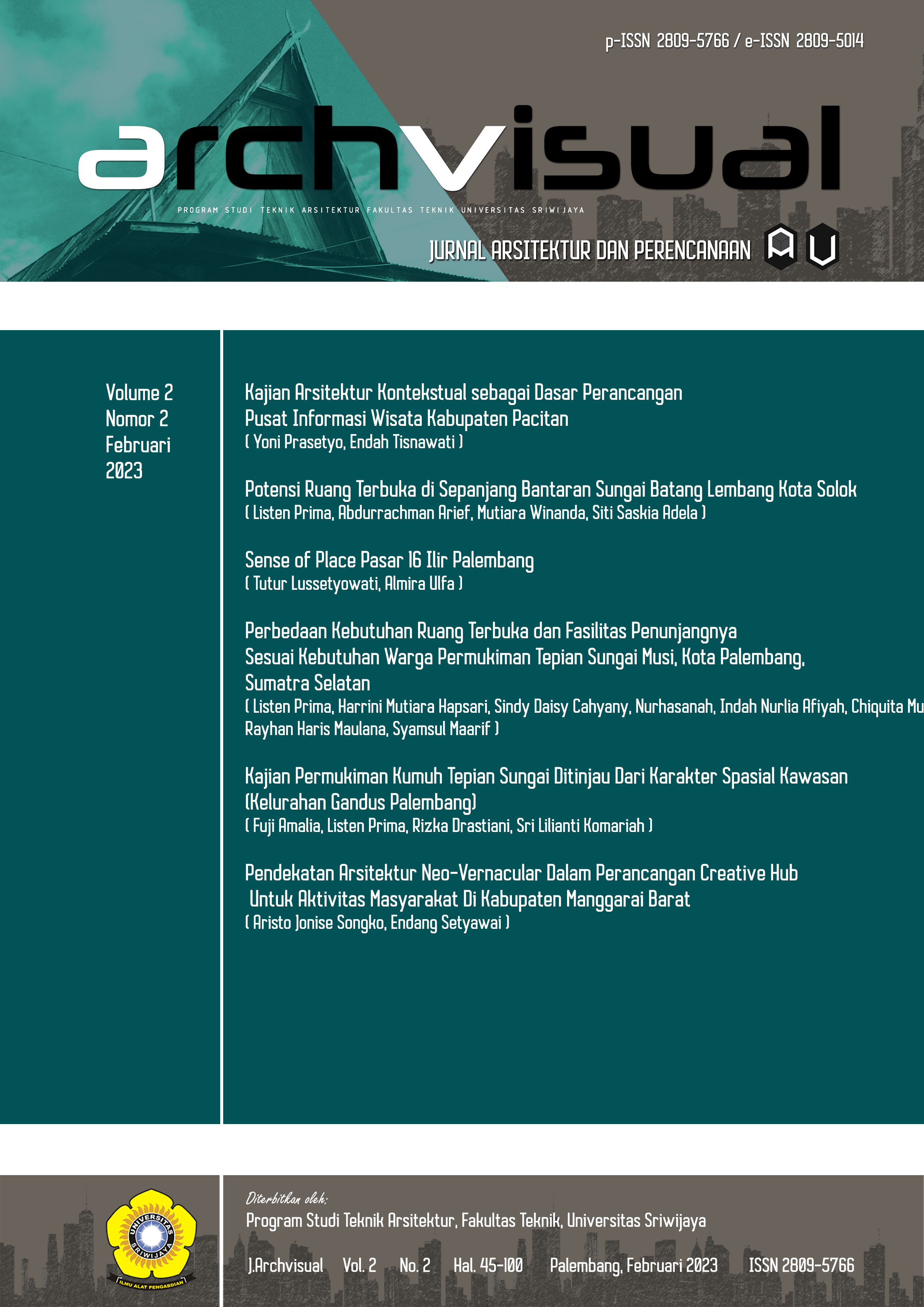 This work is licensed under a Creative Commons Attribution-NonCommercial 4.0 International License.
Authors who publish with this journal agree to the following terms:
Authors retain copyright and grant the journal right of first publication with the work simultaneously licensed under a Creative Commons Attribution-NonCommercial 4.0 International License that allows others to share the work with an acknowledgment of the work's authorship and initial publication in this journal.
Authors are able to enter into separate, additional contractual arrangements for the non-exclusive distribution of the journal's published version of the work (e.g., post it to an institutional repository or publish it in a book), with an acknowledgment of its initial publication in this journal.
Authors are permitted and encouraged to post their work online (e.g., in institutional repositories or on their website) prior to and during the submission process, as it can lead to productive exchanges, as well as earlier and greater citation of published work (See The Effect of Open Access).