Studi Pergeseran Signifikansi Elemen Bersejarah Berdasarkan Kognitif Masyarakat Kota
Widya FF Anwar

Teknik Arsitektur, Universitas Sriwijaya, Palembang.

Caroline Caroline

Teknik Elektro, Universitas Sriwijaya, Palembang.

I Bayusari

Teknik Elektro, Universitas Sriwijaya, Palembang.
Keywords:
kognitif, mental map, elemen bersejarah
Abstract
Beberapa kota masih memiliki kawasan dan elemen bersejarah dengan kognitif masyarakat terhadap keberadaannya masih dapat dengan mudah ditengarai, namun beberapa tidak lagi memilikinya. Kota Palembang merupakan salah satu diantaranya. Studi sebelumnya tentang pentingnya elemen kota yang dilakukan pada tahun 2019 dan 2020 menunjukkan terdapat 22 elemen sejarah kota yang penting, tiga elemen yang paling signifikan dari segi memorability, imagibility, dan attachment berupa Benteng Kuto Besak, Jembatan Ampera, dan Masjid Agung. Penelitian ini bertujuan untuk memperkuat hal tersebut dengan menentukan elemen dan kawasan historis yang penting berdasarkan kognitif masyarakat kota. Penelitian ini memiliki dua sasaran yaitu: (1) menentukan elemen dan kawasan historis; dan (2) memetakan pola fisik dan spatial elemen dan/atau kawasan yang dianggap signifikan oleh masyarakat. Studi ini memetakan elemen kawasan historis dengan menggunakan hasil mental map dari 40 responden yang mengkonfirmasi bahwa ketiga elemen tersebut merupakan elemen yang paling melekat dalam kognitif responden dan beberapa tercantum sebagai elemen baru kota dan elemen lama dengan nama yang baru. Studi ini menemukan bahwa area dan elemen bersejarah kota yang secara fisik masih ada, lebih melekat dalam kognitif masyarakat dibandingkan yang tidak ada dan hanya tinggal namanya saja (toponim). Kesimpulan dari studi ini diperlukan upaya untuk mengangkat kembali pemahaman kognitif masyarakat melalui rekonstruksi dalam bentuk digital agar baik elemen kota yang masih ada maupun yang hanya tinggal toponim, dapat dipahami oleh masyarakat untuk masa sekarang dan yang akan datang.
References
Altman, I & Low, S. (1992). Place Attachment, Hal. 1-12, Plenum Press, New York
Albert, H.C. & Hazen, H.D. (2010). Maintaining Authenticity and Integrity at Cultural World Heritage Sites. The Geographical Review, 100(1), 56-73
Anwar, W.F.F. (2013). Identification of the Morphological Characteristics of Palembang Riverside Settlement, Disertasi Doktor, School
Gambar 2. Hasil Mental Map pada Struktur Kota
Sumber: Penulis, 2022
Archvisual: Jurnal Arsitektur dan Perencanaan Volume 2 Nomor 1 Juni 2022: 1-6
p-ISSN 2809-5766 / e-ISSN 2809-5014
6
of Graduate Studies, Universiti Teknologi Malaysia
Bahar, Y. N. (2014). Aplikasi Teknologi Virtual Realty Bagi Pelestarian Bangunan Arsitektur. Jurnal Desain Konstruksi, 13(2), 34-45.
Gospodini, A. (2004). Urban Morphology and Place Identity in European Cities: Built Heritage and Innovative Design. Journal of Urban Design, 9(2), 225-248.
Graham, E. (1976). What Is a Mental Map? Area, 8(4), 259-262. Retrieved March 25, 2021,
Handal, J. (2006). Rebuilding City Identity through History: The Case of Bethlehem, Palestine. In Zetter, R. and Watson, G.B. (Ed.) Designing Sustainable Cities in Developing World, pp. 51-68. England: Ashgate
Hidayat, H. & Cahyono, A B. (2016). Rekonstruksi Digital Bangunan Candi Singosari Dengan Metode Structure from Motion Digital Reconstruction of Singosari Temple Using Structure from Motion Methods. Geoid, 11(2), 211-218
Jász, B. (2018). Mental map of the city: elements of visual argumentation and creativity in modern city planning. Creativity Studies, 11(2), 284-293.
Muchamad, B.N & Mentayani, I. (2004). Model Pelestarian Arsitektur Berbasis Teknologi Informasi, Studi kasus: Arsitektur Tradisional Suku Banjar, Dimensi Teknik Arsitektur, Vol.32(2), Hal. 95-101
Moller, V & Radolff, S.E. (2010). Monitoring Perception of Social Progress and Pride of Place in a South African Community, Applied Reseach Quality, Vol.5 hal 49-71
Oktay, D. (2002). The Quest for Urban Identity in the Changing Context of The City. Cities, 12 (4), 261-271. Rapoport, A. (2004). Local Environment in Global Context. Proceeding of EBRA 2204 International Symposium, 1-15.
Sulistianingsih, A. S., & Kustono, D. (2022). Potensi Penggunaan Teknologi Augmented Reality (Ar) Dan Virtual Reality (Vr) Dalam Pembelajaran Sejarah Arsitektur Di Era Pandemi Covid-19. Jupiter (Jurnal Pendidikan Teknik Elektro), 7(1), 10-18.
Smaldone, D. (2006). The Role of Time in lace Attachment. Prosiding the 2006 Northeastern Recreation Research Symposium, GTR-NSR-P-14, Hal. 47-56
Swindle, J., Dorius, S., & Melegh, A. (2020). The mental map of national hierarchy in Europe. International journal of sociology, 50(3), 179-200.
Toha, Rayuna. (2018). Pengembangan Mental Map Dalam Pembelajaran Geografi Di Sekolah. Jurnal SPATIAL Wahana Komunikasi dan Informasi Geografi. 18. 84-94. 10.21009/spatial.182.02.
Wang, S.Y. (2010). In Search of Authenticity in Historic Cities in Transformation, the Case of Pingyao, China. Asian Research Institute Working Paper Series, No. 133: ARI, NUS.
Watson, B & Bentley. (2007). Identity by Design; Elsevier Ankum, P., Koga, K., Segeren, W.A. and Luijendeijk, J. (1988). Lessons from 1200 years impoldering in the Netherlands. Proc. Int. Symposium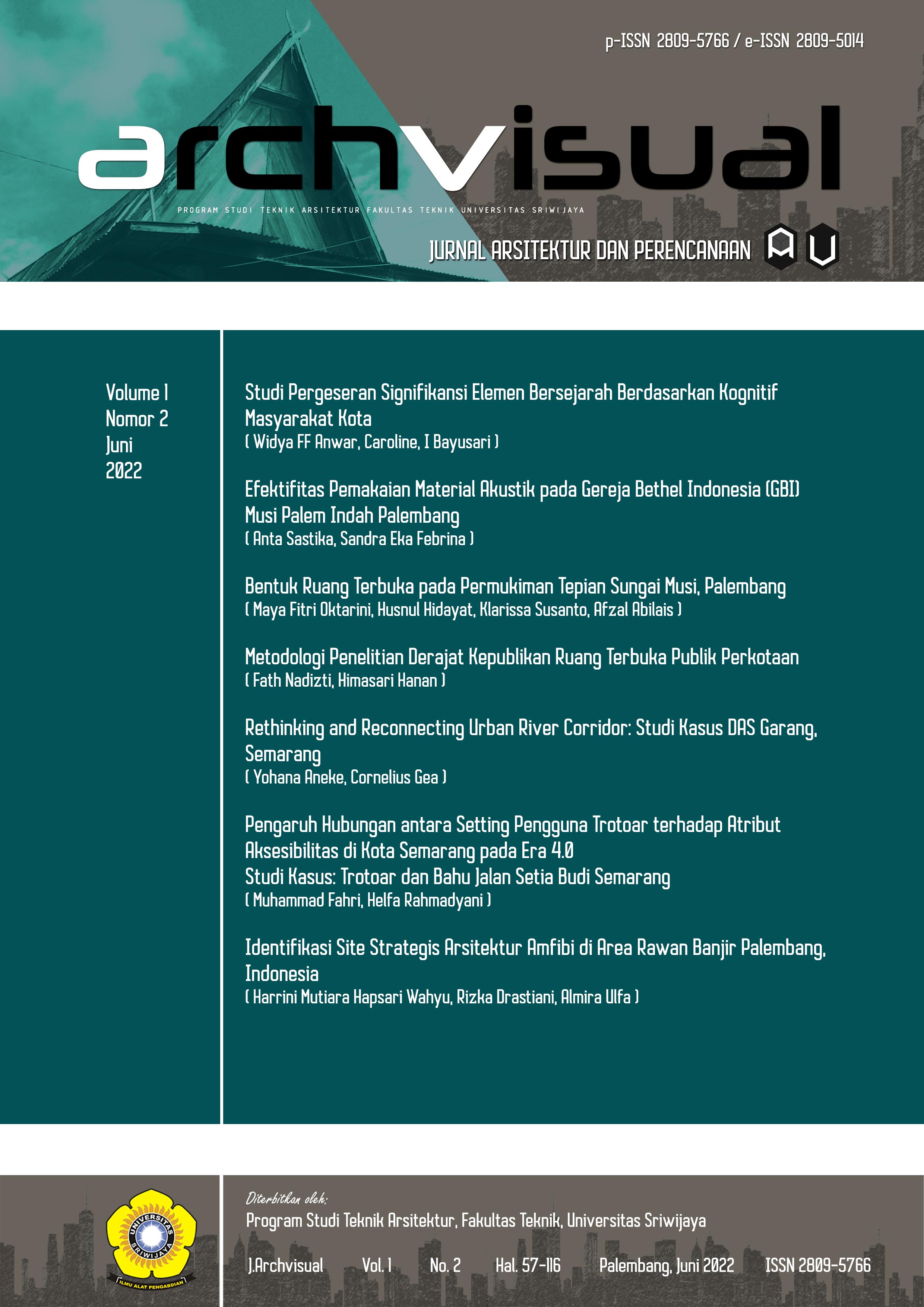 This work is licensed under a Creative Commons Attribution-NonCommercial 4.0 International License.
Authors who publish with this journal agree to the following terms:
Authors retain copyright and grant the journal right of first publication with the work simultaneously licensed under a Creative Commons Attribution-NonCommercial 4.0 International License that allows others to share the work with an acknowledgment of the work's authorship and initial publication in this journal.
Authors are able to enter into separate, additional contractual arrangements for the non-exclusive distribution of the journal's published version of the work (e.g., post it to an institutional repository or publish it in a book), with an acknowledgment of its initial publication in this journal.
Authors are permitted and encouraged to post their work online (e.g., in institutional repositories or on their website) prior to and during the submission process, as it can lead to productive exchanges, as well as earlier and greater citation of published work (See The Effect of Open Access).